description of business
Used Vehicle Export Industry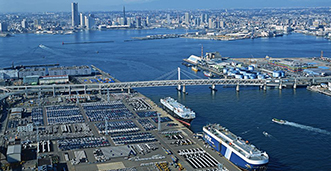 [Global leader in used car exportation]
Founded in 1993 with used car export as our core business; SBT has been operating for more than two decades with 8 offices in Japan, 32 branches in other countries, and has exported cars to more than 120 countries worldwide.
Surpassing sales figures of 92 billion yen, it is the leading used car exporter as of September 2015.
[Over-20-Year-History of Trusted Service with Experiences and Performances]
SBT is highly trusted by many of both domestic and international business partners due to our professional and highly experienced staff throughout the whole operation in terms of;
-Adjusting to import regulations of each country, such as inspection, maintenance, export documentation, shipment loading arrangement
-Multilingual customer service
-Marketing in export destination countries
-Proper pricing in accordance with market quotations

[Promising Used vehicle Export Industry]
Total number of exported second hand cars from Japan in 2011 was around 860,000 units and since then quickly grew, reaching 1,330,000 units in 2018.
Boasting tremendous popularity especially in industrializing countries due to their affordability and reliability, the demand for Japan's used cars is expected to grow.
*Based on data from Trade Statistics of Ministry of Finance Japan